Richmond Hill Hood Cleaning
#1 Best Restaurant & Facilities Kitchen Exhaust Cleaning Company
We apply NFPA #96 standards for Kitchen Exhaust System Cleaning
We provide a Health & Safety Certificate as per NFPA 96 standards along with before/after pictures when completed
We will provide our WSIB and Liability Insurance information before start of work
Richmond Hill Hood Cleaning
Kitchen grease is a dangerous hazard for restaurant owners and commercial cooking facilities. We want you to be safe, which is why Richmond Hill Hood Cleaning in the Richmond Hill, ON area, offers trusted and timely kitchen exhaust system and hood cleaning, grease containment services.
We provide sales, installation and service for kitchen hoods and grease containment systems. Additionally, we also have a full suite of maintenance and repair services which include:
✅ Exhaust Fans

✅ Rooftop Grease Containment

✅ Hinge Kits

✅ Grease Filters

And More!
Regardless of your commercial kitchen cleaning needs, you can rely on Richmond Hill Hood Cleaning to meet them immediately. We're at your service 24 hours a day, seven days a week, so you can have a team to turn to when you have an emergency.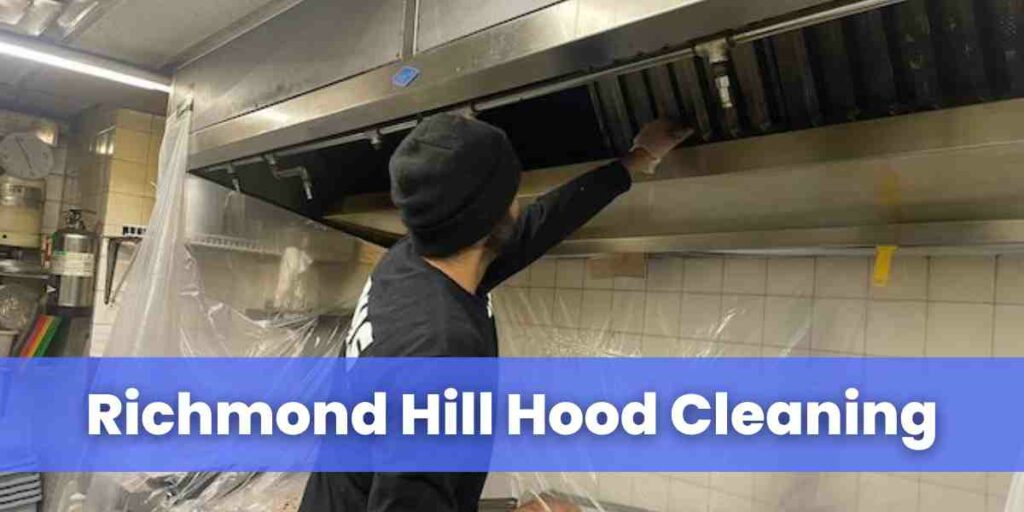 Richmond Hill Hood Filters
The hood filters on your range hood work to remove grease, dirt, and other particles from the air. In essence, they trap all of the bad stuff that comes from cooking smoke and vapours. The air expelled by your range hood may be cleaned and recirculated back into your facility or extracted to the outside of your building.
Roughly speaking, if you don't have a range hood and its filters in your kitchen, grease will build up over surfaces like countertops, cabinets, and floors over time. Additionally, the air quality in your commercial kitchen could suffer.
Hood filters in commercial kitchen exhaust systems are considered disposable or reusable. Reusable filters can be removed and cleaned, while disposable filters must just be replaced with a new one. They're also made from varying materials, including aluminum, stainless steel, and charcoal. Aluminum is the most widely available and cheapest material used.
Regular cleaning and maintenance can't be stressed enough – for the safety of your business and staff in Richmond Hill, ON. At Richmond Hill Hood Cleaning, we give our clientele a wide selection of hood filters. Our technician will assist in determining which type best suits your commercial kitchen facility and its needs. We'll also install, repair, or replace any hood filter you require.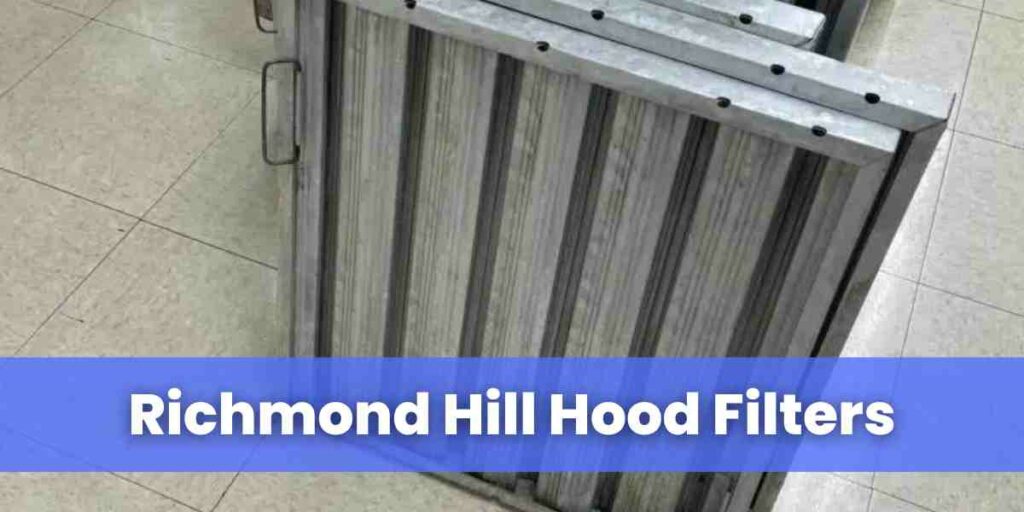 Richmond Hill Restaurant
Cleaning Services
After a long day of cooking, cleaning the kitchen can seem tedious and time-consuming. Once you've done your part in serving your customers with good food, your responsibility doesn't end there. You want to ensure the safety of customers, employees, and your company by maintaining a clean and organized workplace.
Richmond Hill Hood Cleaning takes this burden away from you. We provide commercial kitchen cleaning services that are tailored to meet your needs. From deep scrubbing surfaces, floors, walls and ceilings to exhaust system cleaning, we have what it takes to perform every commercial kitchen cleaning job with a consistent output.
We do all the literal dirty work, including degreasing and sanitizing all areas of commercial kitchens – including hoods and vents, cabinets, countertops, and all food preparation surfaces. We'll help you stay up to code with your local health department regulations and standards.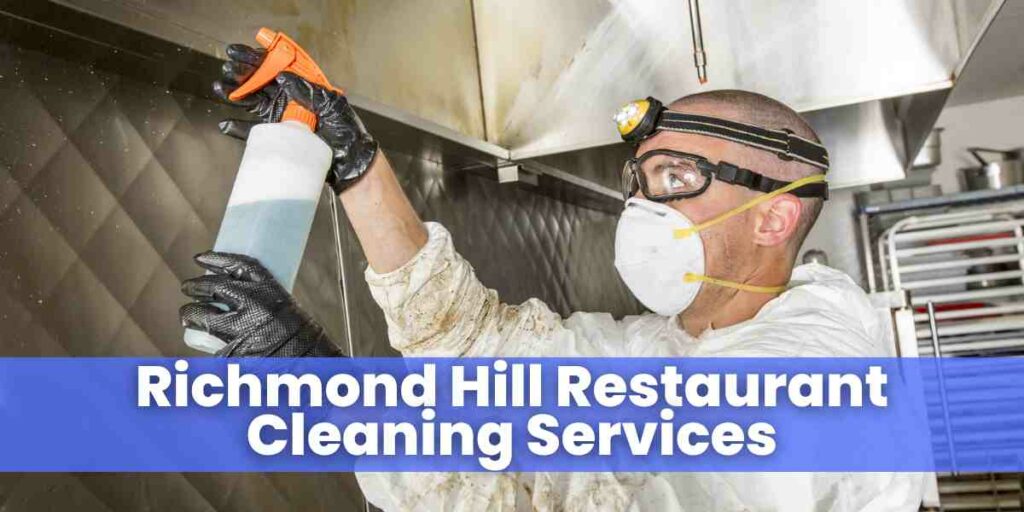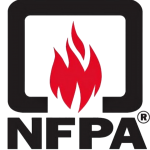 Our Fully Trained Service Technicians Follow The NFPA 96 (National Fire Protection Association) Standards for Hood & Kitchen Exhaust Cleaning.
Get Your Free Hood Cleaning Estimate Now!
We Have The World's Most Awesome Clients










NFPA 96 for Richmond Hill Restaurants & Facilities
The National Fire Protection Association (NFPA) created NFPA 96 as the standard for commercial kitchen ventilation. NFPA 96 paves the way for a safe environment for guests, staff, and the restaurant by regulating grease-laden equipment and appliances.
At Richmond Hill Hood Cleaning, we operate within the NFPA 96 standard. Our trained technicians will inspect your kitchen ventilation components and ensure they meet the national fire safety codes.
We furnish a full report to inform you of any non-conformance issues we may have discovered, along with recommendations for fixing them. Before you talk to other cleaning crews in Richmond Hill, ON, be sure they follow the NFPA 96 standards. If not, the safety of your business may be at risk.
Richmond Hill Rooftop Grease Containment
By installing a filtered grease containment unit, you're actively preventing grease buildup on your roof. The replaceable filters of the system efficiently trap grease and oils while permitting moisture, i.e., rainwater, to pass through unfettered. The captured grease stays inside the filter where it belongs.
This system makes perfect sense for restaurants and establishments that house commercial kitchens. The filtered grease containment unit keeps the rooftop clean and safe, prevents damage to the roof, and minimizes health hazards.
Just as you wouldn't build a home without installing windows, routine maintenance and regular inspections of your grease containment system are necessary to prevent foul odours and dangerous explosions. Filters need to be changed at least twice a year, or the grease container will not be able to perform its critical task of capturing and trapping grease.
A grease containment system with a large capacity should be used in a kitchen that produces large amounts of food. A catch pan is located under the exhaust hood for those with a smaller output. However, catch pans are prone to overflow with grease and rainwater and should be avoided.
Richmond Hill Exhaust Fan Hinges Installation
You must invest in an exhaust fan hinge kit for your kitchen exhaust fan to keep it in good working order. Exhaust fan hinges, or flipper door hinges, provide a better seal to prevent grease from entering the exhaust fan and ducts.
Furthermore, the hinges make it easier (and safer) for duct cleaning and maintenance personnel to access the fan for regular inspection and cleaning. Richmond Hill Hood Cleaning installs exhaust fan hinges in commercial kitchens, restaurants, and other establishments with hoods that require frequent maintenance.
We'll help you select the appropriate hinge kit based on your kitchen layout and operations. Contact us today so we can discuss your needs.
Richmond Hill Pressure Washing Services
Pressure washing is essential to keep your kitchen and outdoor areas clean. Richmond Hill Hood Cleaning offers commercial-grade pressure washing services for restaurants and other establishments that require frequent deep cleaning for everything, including air duct cleaning, restaurant grout, and exhaust systems.
A thorough exterior cleaning job is only possible with the right equipment. Our team uses industrial pressure washers to remove grease, dirt, and grime from surfaces. We serve Richmond Hill restaurants, residential buildings, hotels, retail stores and more with our comprehensive pressure-washing services.
Richmond Hill
Hood Vent Cleaning
We have safety procedures in place when it comes to hood vent cleaning. That's something that many of our competitors don't tell you. They talk about how effective their cleaning methods are but often neglect to mention their safety protocols — or lack thereof.
At Richmond Hill Hood Cleaning, we do things a bit differently. We ensure all our technicians are trained in proper safety measures and have the right certifications and qualifications. Then they use an industrial-grade hood vent cleaning machine that effectively eliminates grease buildup.
Finally, all hoods and vents are tested for functionality after cleaning. That way, you're certain that your kitchen is safe and in compliance with health codes and regulations.
Nobody should take their business's safety lightly — not when there's so much at stake. By hiring Richmond Hill Hood Cleaning for hood vent cleaning and other services, you can be sure your kitchen is always compliant with safety regulations.
Richmond Hill Restaurant Equipment Cleaning
Your restaurant's equipment must remain clean and hygienic at all times to prevent the spread of bacteria and other food-borne diseases. As the best hood cleaning company in Richmond Hill, we offer extensive deep-cleaning services for commercial kitchens in restaurants, hotels, and other businesses. Our top priority is safeguarding your establishment against fire hazards while maintaining the cleanliness that customers expect.
Our team uses EPA-approved cleaning products, steam cleaners, and pressure washers to deep clean your kitchen equipment and appliances.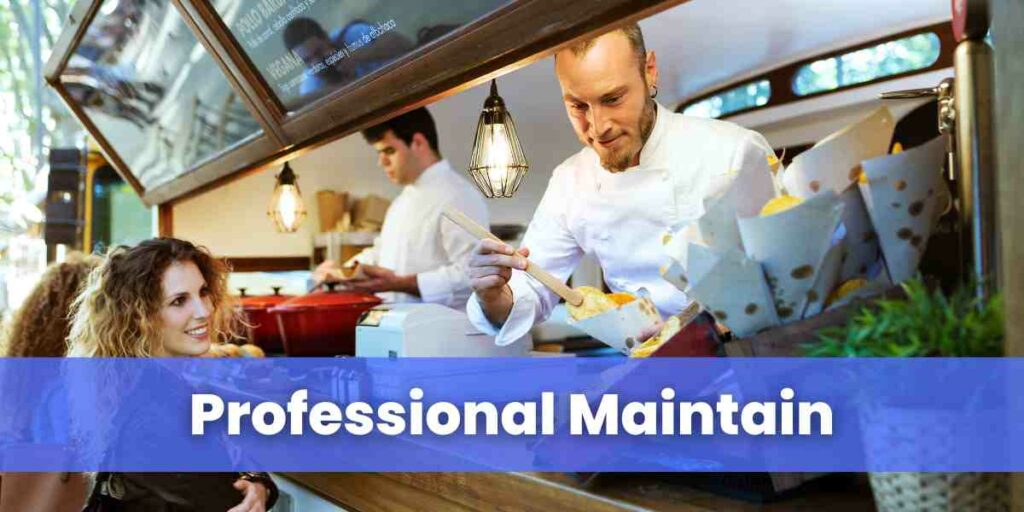 Richmond Hill Food Truck Hood Cleaning
A food truck's kitchen must be regularly cleaned and maintained for sanitation and to avoid fire hazards from grease, smoke, and dirt build-up. Richmond Hill Food Truck Hood Cleaning offers professional hood cleaning services to keep your food truck's kitchen safe and hygienic. Our food truck deep cleaning services are administered by expert technicians who utilize durable, top-of-the-line equipment and EPA-approved products.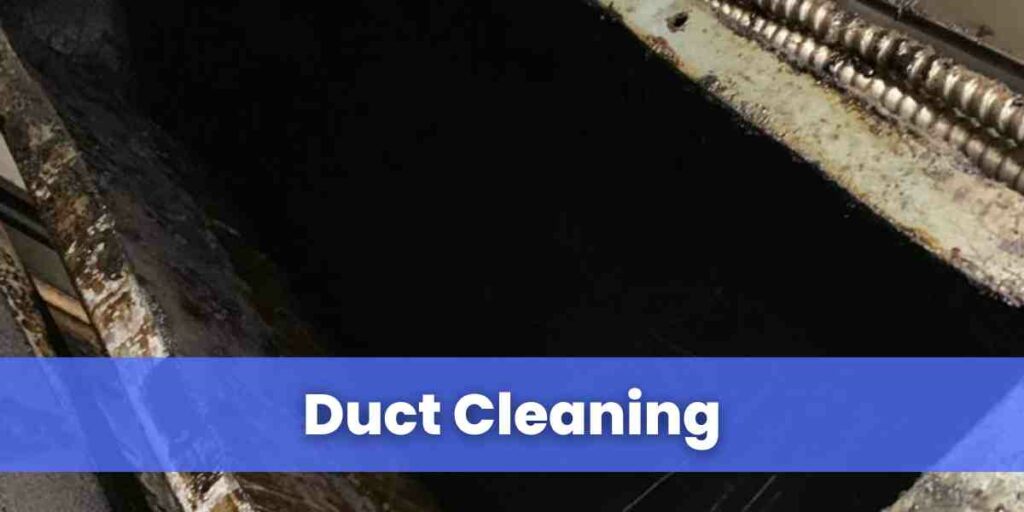 Commercial HVAC Cleaning Services
The air conditioning system in a commercial kitchen must be regularly cleaned to prevent the spread of allergens and other potentially hazardous airborne particles. The lack of regular cleaning can also lead to a build-up of dust, dirt, and grime that can damage your HVAC system. Let our qualified technicians take care of your HVAC system with our commercial-grade cleaning services.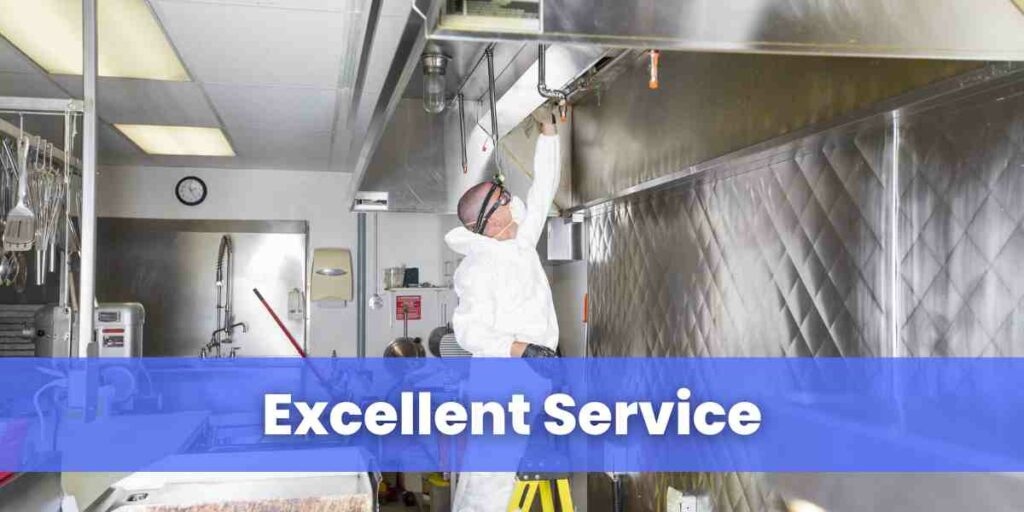 Service Areas Neighborhoods
Richmond Hill Hood Cleaning services the greater Richmond Hill area, including New Market, Sutton West, Maple, King City and beyond. Contact us at your most convenient time for any of your commercial kitchen needs. We hope to meet you and discuss how our services can improve your kitchen operations.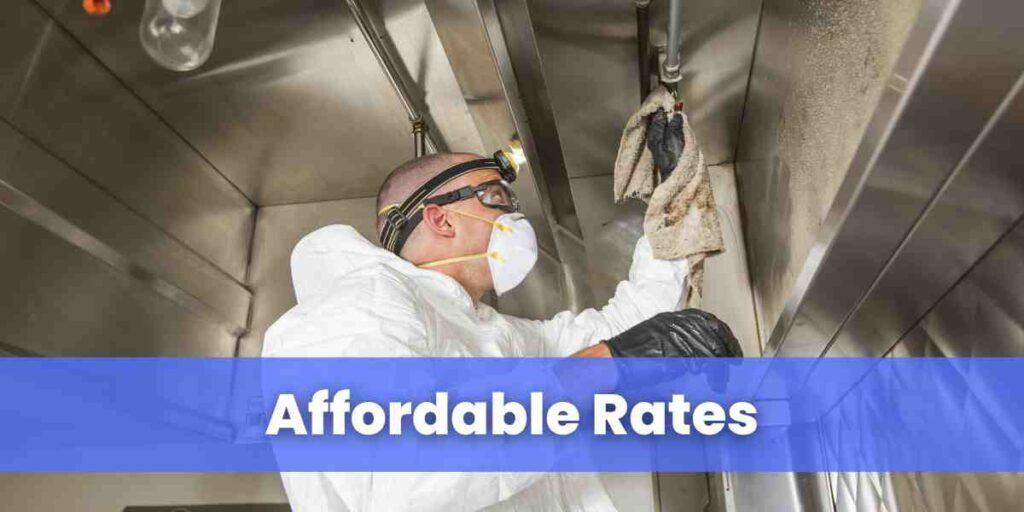 Fast, efficient, and safe commercial kitchen hood cleaning
If you're still on the fence about getting your kitchen hood cleaned, let us convince you otherwise. Richmond Hill Hood Cleaning offers fast and efficient cleaning services with industrial-grade equipment — all while ensuring a safe working environment for our technicians and your staff.
We rely on our experience, quality materials, and top-notch safety protocols to ensure your kitchen complies with all applicable codes, regulations, and health standards.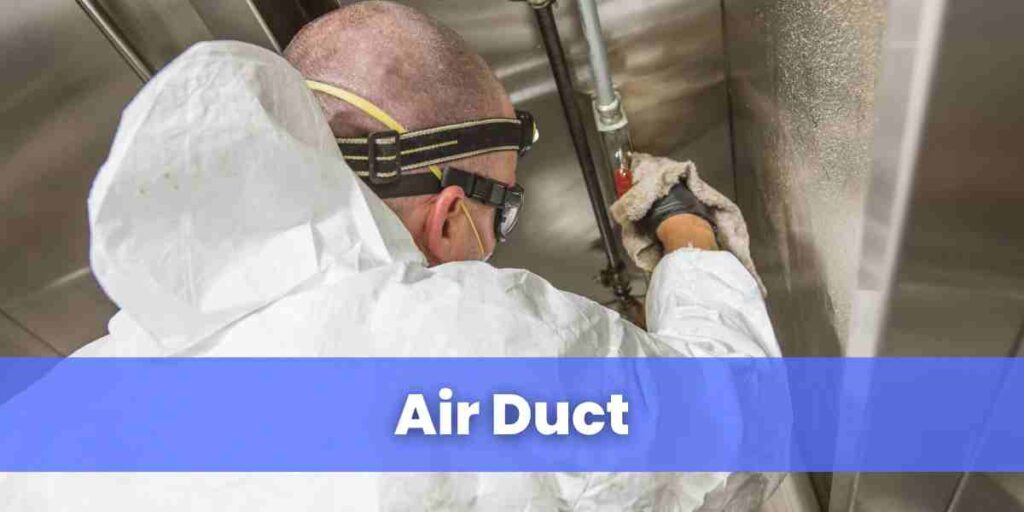 Why did you need to get your kitchen hood cleaned?
The answer is clear — to ensure a safe and compliant kitchen environment and to keep your customers happy. We guarantee you won't regret getting your hood cleaned with us! Contact Richmond Hill Hood Cleaning today for all your commercial kitchen needs. We can't wait to work with you!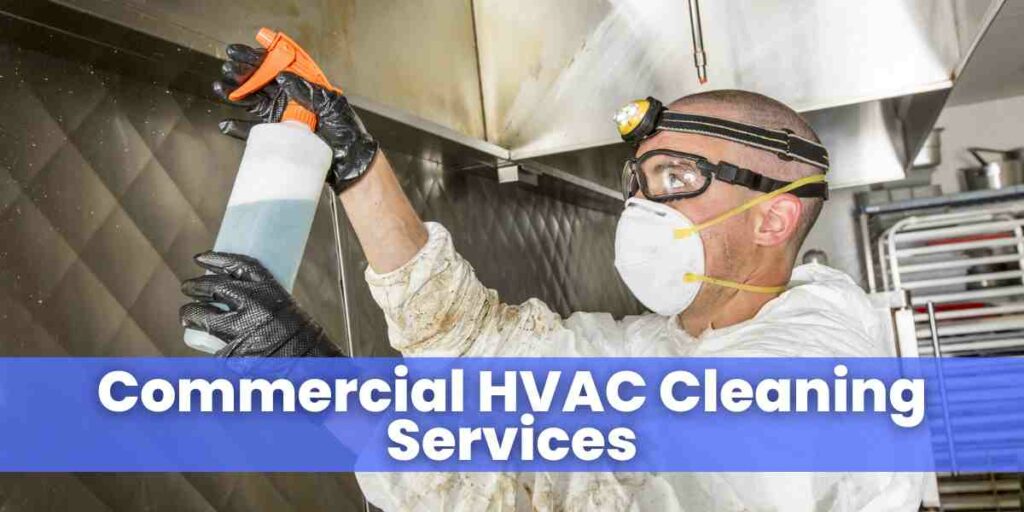 Kitchen exhaust cleaning Richmond Hill
Cleaning the kitchen exhaust system is mandatory, and for a good reason. YA restaurant's kitchen exhaust system must be cleaned to stop fire hazards and for the sake of air quality. The build-up of grease, smoke, dirt and other contaminants can make your kitchen environment dangerous for employees and customers.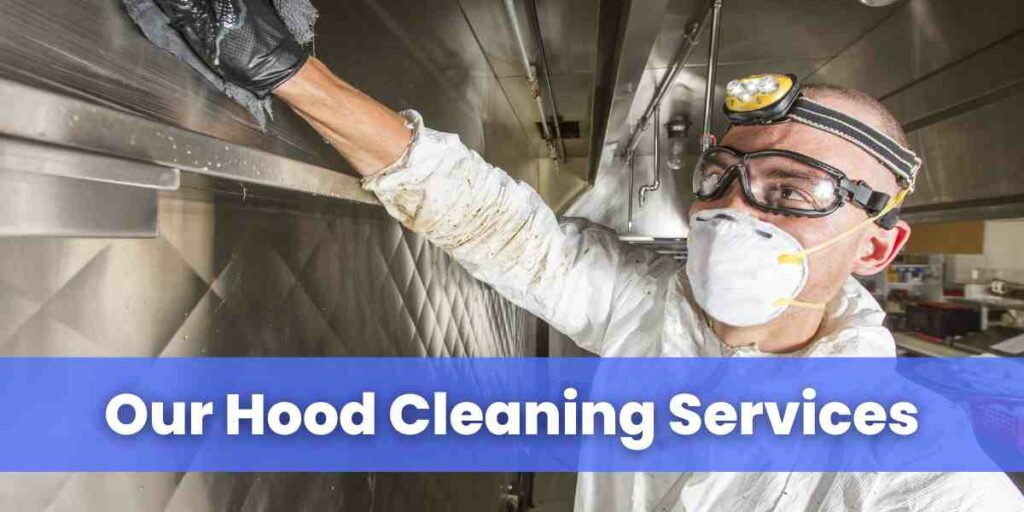 Our Hood Cleaning Services
Our hood cleaning services are inclusive of:
✅ Exhaust hood cleaning

✅ Grease trap and filter cleaning

✅ Air duct cleaning

✅ Stove and oven deep cleaning

✅ HVAC system maintenance, inspection and repair

✅ Kitchen exhaust fan repair or replacement
Frequently Asked Questions
First, the exhaust system is scraped clean; however, this step is not usually necessary if the grease exhaust system has been well maintained using caustic chemicals and hot water. Secondly, the system is pressure-washed to remove any leftover debris and collect the dissolved grease and water. National Fire Protection Association gives detailed maintenance guidelines for commercial kitchen ventilation systems (NFPA). The frequency of hood plenum cleaning is contingent on the type of food being prepared and the quantity of grease-laden vapours being drawn into the kitchen. A church that primarily uses the system for special events may only require maintenance 10 times per year, but a church that has a weekly fish fry on Friday nights would require more frequent care. Typically, cleanings occur monthly, bimonthly, quarterly, semiannually, and annually. Kitchen Exhaust Cleaning is often referred to as Hood Cleaning.
To eliminate the grease, caustic substances may be utilised. The residue can then be eliminated with hot water rinsing. The most prevalent methods for applying chemicals are garden sprayers, chemical foamers, and pressure washers with downstream injection.
The chemicals are applied to the grease and let to sit for a time before being removed with hot water. In extreme circumstances when grease buildup is too thick for chemical application and rinsing, it may be required to use scrapers to remove excessive accumulation from contaminated surfaces prior to applying chemicals.
Hot Water Pressure-Washing
Available for use are machines that can both boil water and apply it at pressures of up to 2,000 psi (14,000 kPa). Heavy-duty tarps are attached to the hoods, and the tarps are angled into plastic garbage cans to collect rainfall. Empty cans are emptied one by one as they become full. To prevent clogging of local drains, grease should be disposed of correctly rather than just poured in. Inadequate horizontal duct cleaning may result in the buildup of excessive grease in inaccessible ductwork. After being pushed farther into the ductwork by steam cleaners, grease may build to hazardous amounts in the ducting between the hood and the fan on the roof. Before flushing the system with hot water and a caustic chemical degreaser to remove buildup from inaccessible areas, firms that employ hot water procedures should apply a caustic chemical degreaser to break down the grease.
Typically, cleaners would polish hoods to facilitate their cleaning and maintenance. The cleaning business will post a certification sticker on the hood of each kitchen exhaust system it cleans so that the authority having jurisdiction, insurance adjusters, and health inspectors can certify that the system complies with all applicable municipal, county, and state fire regulations. Using a vinegar-and-warm-water solution, white residue from industrial kitchen grease cleaning may be removed.
According to Standard 96 of the National Fire Protection Association, cleaning a kitchen's exhaust system involves removing oil and other contaminants. Regular cleaning of the kitchen exhaust system is essential for fire protection in commercial kitchens. Specialized kitchen exhaust system cleaners employ high-pressure water or chemicals to eliminate grease and other contaminants. To comply with NFPA 96, the National Fire Protection Association's Standard for Ventilation Control and Fire Protection in Commercial Kitchens, many towns require clean kitchen exhaust systems. Cleaning kitchen exhaust hoods is a specialised work that should only be performed by individuals who have gotten the necessary training and certification.
Associations have been formed to educate persons who clean kitchen exhaust systems on the NFPA 96 regulations and best industry practises. Voici a few examples:
The Power Washers of North America represents hood and duct cleaners in North America, while the International Kitchen Exhaust Cleaners Association represents cleaners worldwide.
What People Are Saying
See what our customers are saying about us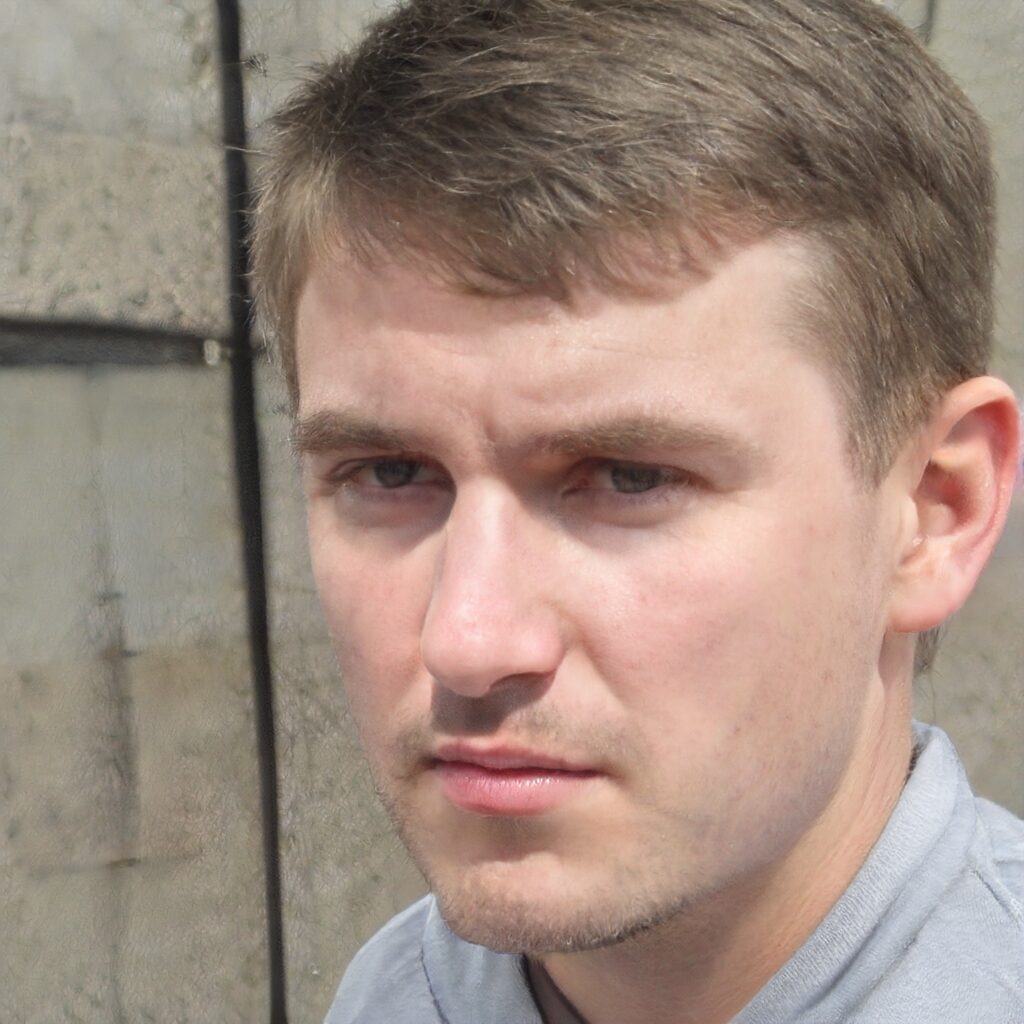 In and our in 4 hours. Great Job! Thank you
Very happy with the cleaning of our kitchen exhaust hoods. Very professional.
Would highly recommend this company. Thanks
Richmond Hill Hood Cleaning Areas Served
Richmond Hill Hood Cleaning Richmond Hill, Ontario L3T 3N1 (289) 796-1166